WHERE THE PAGER TAKES US – WINTER SPECIAL – Sunday 8th December 2013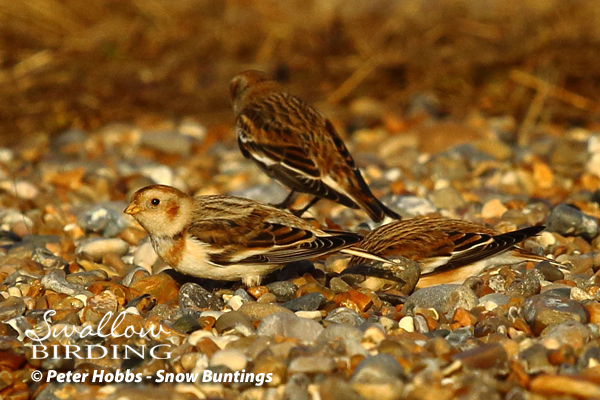 With widespread flooding on the coastline from The Wash down to Suffolk on 5th December we were limited to sites to visit, but we started off at Pakefield where we eventually tracked down a party of around 30 delightful SNOW BUNTINGS along the beach, which gave good views as they fed on the washed up debris along the coast. A small group of TURNSTONE were also present.
We drove the short distance to Ness Point and found a couple of PURPLE SANDPIPERS roosting on the outfall and whilst here an adult MEDITERRANEAN GULL flew over.

With weather conditions good, we made our way over to the Waveney Forest and a short time later were treated to good views of two ROUGH-LEGGED BUZZARDS flying together over the marsh. Other notable species here included hundreds of PINK-FOOTED GEESE, MARSH HARRIERS, GOLDEN PLOVER, LAPWINGS and a couple of COMMON BUZZARDS. The walk through the pines found us several COAL TIT and GOLDCREST.

With lunchtime approaching, we headed to Caister to look for the long-staying Rose-coloured Starling. Despite looking through large numbers, we just couldn't locate this bird.

The remainder of the day was enjoyed at Hickling Broad, where as the afternoon light died we had good views of a family group of COMMON CRANE in front of the viewpoint, whilst up to 50 MARSH HARRIERS quartered over the reedbeds. At least two ringtail HEN HARRIERS were seen and a short while later we had distant views of a stunning male HEN HARRIER. Four more COMMON CRANES flew in and both SPARROWHAWK and MERLIN were seen briefly.

FIELDFARES moved through the area on their way to roost and a small flock of LESSER REDPOLL flew over us. Two groups of swans flew past from the south, all of them being BEWICK'S SWANS which was good to see. As the light left us, we could hear a KINGFISHER calling but it remained hidden.

The day was rounded off with an amazing sunset after what had been a good day!