CORNWALL - WHERE THE PAGER TAKES US SPECIAL - Saturday 25th - Tuesday 28th January 2014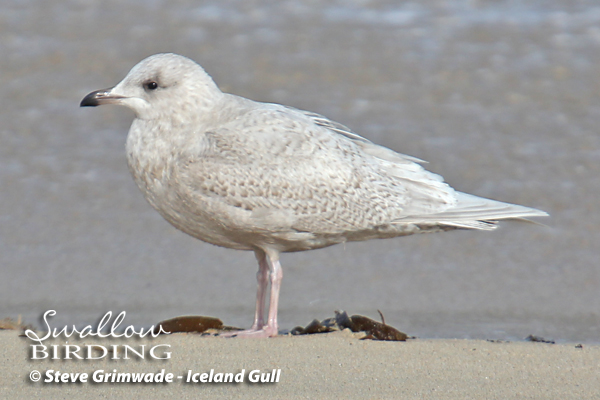 Saturday
After completing our pickups, we started the journey south-westwards where the first bird of note was a RED KITE, seen close to Basingstoke. COMMON BUZZARDS and RAVEN were seen as we made good time towards Exeter. We arrived at our first site in Devon at around 12.30 to find sunny conditions with a brisk north-westerly wind.

A COMMON CHIFFCHAFF flitted amongst the reeds and scrub bordering the car-park but our attention was drawn to the back of the car-park where we located a number of CIRL BUNTINGS. Up to 15 were seen, including some superb males and once they settled down from disturbance from a dog walker they were quite confiding. REED BUNTINGS, CHAFFINCHES, DUNNOCKS and ROBINS fed on the seed put down during winter to ensure the CIRL BUNTINGS have enough food.

We then made our way over to the bay where conditions were nice and calm. A MEADOW PIPIT flew off from the path and a few seconds later, we found a cracking ROCK PIPIT that gave good views. The first bird we saw from the promenade was a winter plumaged BLACK-NECKED GREBE, seen swimming mid distance. Several GANNETS fed in the distance and OYSTERCATCHER and SHAG were seen on rocks.

Further scanning proved productive with an adult GREAT NORTHERN DIVER, BLACK-THROATED DIVER, GREAT CRESTED GREBES and two RAZORBILLS offshore. Up to seven FULMAR flew around the bay with several roosting on cliffs. With time getting on, we made our way back to the stream and scrub where the first bird we laid eyes on was a fine SIBERIAN CHIFFCHAFF. This bird was a stark contrast to the CHIFFCHAFF seen earlier, its' cold tones very distinctive, although unfortunately it didn't call.

A bit further along we found more CHIFFCHAFFS and another SIBERIAN CHIFFCHAFF which gave great comparisons as they flitted around in front of us.

It was then back to the van before making a short drive to Brixham where we had lunch. The harbour was pretty quiet bird-wise with only SHAG and a bull GREY SEAL munching on a large fish being of note.

We then headed west towards Cornwall, by now the weather having changed considerably with a very gusty north-westerly wind. A few RAVENS and a flock of GOLDEN PLOVER were seen near to Bodmin Moor and a short while later we arrived at Helston and checked into the hotel.

After a wash and brush up we met in the bar, where we completed the bird list before enjoying a three course meal that went down very well, with us very much looking forward to birding the next day!

Sunday
We awoke to atrocious conditions, with strong winds and heavy rain very much a feature. We all met for a hearty breakfast which was greatly enjoyed by all. Afterwards, we donned our waterproof gear and headed out for the day.

Our first port of call was the Jubilee Swimming Pool in Penzance where we soon located a small number of PURPLE SANDPIPER feeding on the rocks close by. Conditions were slightly hairy to say the least with several large waves crashing over the promenade! In total, 9 PURPLE SANDPIPERS were seen as we sheltered from waves, wind and rain and in the bay were small numbers of GANNETS, SHAGS, FULMARS and a flyby DIVER sp.

With rain falling steadily we made our way around to Carbis Bay where we were treated to a large flock of summer plumaged SHAGS feeding just offshore. Amongst the melee of birds were up to 4 GREAT NORTHERN DIVERS, GANNETS, KITTIWAKES and large numbers of GUILLEMOT and RAZORBILL. Two RAVENS flew north along the shore and a RED-THROATED DIVER was seen feeding out on the edge of the bay.

The rain eased slightly so we took our chance and drove into St. Ives, where once we had negotiated the roads and found the correct car-park. we took a walk through the town toward Porthgwidden Beach. TURNSTONES fed below us on the rocks, amongst them being three more PURPLE SANDPIPERS. The wind by now had swung round from SW to NW and this forced plenty of birds into the bay.

RAZORBILLS, GUILLEMOTS and GANNETS made up the bulk of the birds and there was no doubt plenty of food. Up to 12 MEDITERRANEAN GULLS loafed offshore with the more common HERRING and GREAT BLACK-BACKED. A single GREAT SKUA was seen coming in from the north before landing on the sea.

It didn't take too long before we spotted a 1st winter ICELAND GULL flying in to land on the beach in front of us, where it preceded to give very good views as it bullied the other gulls. We took a walk around the edge of the beach and soon found a 1st winter GLAUCOUS GULL flying over the harbour which eventually came right over our heads giving great views. Just offshore were two GREAT NORTHERN DIVERS, one of which showed brilliantly.

We took a slow walk back to the beach and there on the rocks was another 1st winter GLAUCOUS GULL which seemed quite content just resting. After enjoying this bird for a while we struggled back up to the car-park with the wind and sand in our faces as gusts reached around 60mph!

It was then off to lunch nearby before heading to the Hayle Estuary. The hide at Ryan's Field proved a good place to shelter as a heavy squall blew through, but we did manage to see REDSHANK, CURLEW, BAR-TAILED GODWIT, GREENSHANK, PEREGRINE and a KINGFISHER, a superb spot by Marilyn. Once the rain cleared, we walked to the estuary where the tide was dropping nicely. Hundreds of gulls were present including GREAT and LESSER BLACK-BACKS, HERRING, COMMON, BLACK-HEADED and MEDITERRANEAN.

Waders were seen in good numbers with another GREENSHANK, GREY and RINGED PLOVERS, DUNLIN, 3 SANDERLING, CURLEW, LAPWING, BAR-TAILED GODWITS, REDSHANK and OYSTERCATCHERS being seen. A male and female GOOSANDER were present mid-channel and were joined by a female RED-BREASTED MERGANSER which gave good comparison between itself and the female GOOSANDER. WIGEON and TEAL fed close by and a GREAT NORTHERN DIVER was also seen.

A brief stop at Copperhouse Creek was made but apart from LITTLE GREBES it was very quiet. We then decided to make a late afternoon visit to Marazion Marsh RSPB reserve. After parking, we took a walk along the pavement and didn't get far when a BITTERN was seen briefly in flight, before dropping down into the reeds. Fortunately, it came out a short time later and gave a prolonged flight before dropping down in the distance.

With some time spare before dusk, we opted to return to the Hayle Estuary and a brief visit to Carnsew Basin, where we found yet another GREAT NORTHERN DIVER which rounded off the day perfectly. We met to complete the bird list before tucking into yet more food before retiring for the night after what had been a fantastic day!

Monday
The weather was once again windy and wet as we met for breakfast, but just as we were leaving to go birding, the rain stopped which was great. Our destination was the local sewage works and lake where we spent some time exploring the area. In the sheltered hedgerow of the sewage works we noted at least 8 CHIFFCHAFFS of the nominate race along with one definite SIBERIAN CHIFFCHAFF. ROBIN, WRENS and DUNNOCKS were also seen here, no doubt taking advantage of the rich insect life.

On the filter beds we found a smart GREY WAGTAIL along with plenty of PIED WAGTAILS. A walk along the front edge provided us with a GOLDCREST which seemed content fly-catching in a Leylandii. We decided to take a walk along the edge of the lake and had only got a few yards when we spotted a WHOOPER SWAN amongst the MUTE SWANS. Whilst walking to get a better look, we heard a crest calling from inside a clump of Bamboo and on getting our bins on it we found it to be a stunning FIRECREST!

This delightful bird flitted about and gave us good views before disappearing as a heavy squall went through. A few minutes later we were enjoying point blank views of the WHOOPER SWAN.
Also on the lake were TUFTED DUCKS, COOTS, HERRING and BLACK-HEADED GULLS and MOORHENS.

Our next site was to the east of Truro where we hoped to catch up with a long-staying Glossy Ibis, but despite an extensive search we failed to find this bird. We did have some compensation though, with a small flock of SISKIN and several skulking PHEASANTS!

With being so close to the coast we couldn't resist a visit to Gerrans Bay, but on arrival it was very quiet with a few GREAT NORTHERN DIVER, ROCK and MEADOW PIPITS and FULMARS on the cliffs. After a brief search for the Ibis on the way past which was fruitless we decided to head over to the coast.

With lunchtime fast approaching, we made a stop at Philps Pasty Shop in Hayle and tucked into some lovely hot pasties. Whilst eating them we found two GREAT NORTHERN DIVERS in the estuary. The local ROOKS took advantage of some left over crumbs and even took morsels whilst in mid air.

The coast was pretty quiet in comparison with the previous day although we found at least 8 GREAT NORTHERN DIVERS, GANNETS, RAZORBILLS, GUILLEMOTS, KITTIWAKES, FULMARS and Steve had an extremely distant Sooty Shearwater which unfortunately disappeared from view.

With some time remaining, we drove over to Newlyn and took a walk around Sandy Cove. A STONECHAT perched on an Elder and in and around the harbour we noted another 8 GREAT NORTHERN DIVERS! Also seen were KITTIWAKE, RAZORBILLS and our first decent views of several HOUSE SPARROWS.

The day concluded in Penzance where we took a walk looking for Black Redstart but you guessed it, we found yet more GREAT NORTHERN DIVERS. We arrived back at the hotel in good time and met for a pre dinner drink and to complete the bird list before enjoying our evening meal.

Tuesday
After a filling breakfast, we said our goodbyes to west Cornwall and drove to Colliford Lake and Dozmary Pool on Bodmin Moor. As we headed south, a small flock of CANADA GEESE were grazing in a field and amongst them was a single BARNACLE GOOSE.

The sun was shining on Dozmary Pool when we parked, so we walked down a cattle track to get a better angle. Four GOLDENEYE dived in the open water and a scan of the sheltered edge of the pool yielded TUFTED DUCK, LITTLE GREBE, POCHARD and TEAL. Eventually our scanning paid dividends when we located a drake LESSER SCAUP. He remained asleep for our visit but the views were still pretty good. With an approaching heavy rain shower, we retreated back to the vehicle. Driving north along the road produced a couple of RAVEN and a COMMON BUZZARD on a rabbit carcass and a little further on, a SPARROWHAWK flew across the road before landing briefly in a Gorse bush.

It was then a drive of an hour or so before we reached Exeter. After picking up lunch, we visited the area around Dawlish Warren. On our journey around the estuary we saw a BAR-HEADED GOOSE amongst GREYLAGS and a large flock of CURLEW, OYSTERCATCHERS and BRENT GEESE on the golf course. We sat in the van to have lunch as the weather was slightly dodgy, then as we finished lunch a pager message came through regarding a Bonaparte's Gull that was showing from the hide. We made our way there as quickly as possible but unfortunately the bird had disappeared! Despite this we saw good numbers of RED-BREASTED MERGANSER, SHAG, OYSTERCATCHER, SANDERLING, TURNSTONE and DUNLIN. A check of the golf course found us another flock of BRENT GEESE.

A scan of the estuary produced a winter plumaged BLACK-NECKED GREBE and GREAT NORTHERN DIVER whilst further out were a party of female COMMON SCOTER. Moving position to higher sand dunes reaped dividends with a female LONG-TAILED DUCK being found, that eventually flew a little closer.

On meeting up with Mark and Marilyn who had walked back a little earlier, they put us onto a small flock of VELVET SCOTER offshore, as well as several GREAT CRESTED GREBES. Unfortunately the skies turned black and rain started to fall so we took shelter. With it looking like it wasn't going to stop we reluctantly walked back to the van.

Once on the A30 we headed for home noting several COMMON BUZZARDS on the way, as well as a covey of RED-LEGGED PARTRIDGE near to Stonehenge. As we arrived back in Essex, rain was torrential and we got pretty wet unloading our luggage.

Despite the weather throughout the weekend we had seen some really good birds and we certainly had laughs a-plenty with a great group of people!