BROWN HAIRSTREAK HUNT & WILDLIFE OF SUSSEX
Saturday 27th August 2016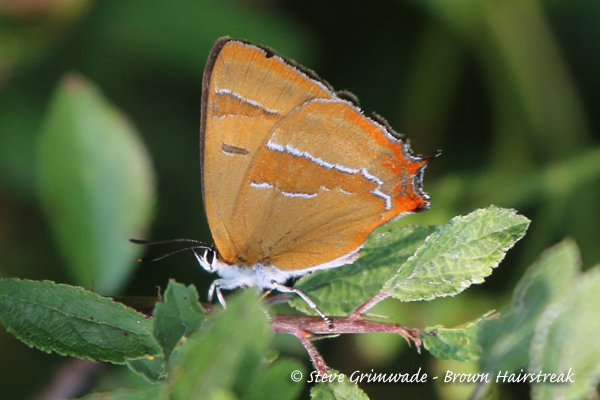 We kicked off the day with a visit to Steyning in West Sussex where we began our butterfly list for the day with SPECKLED WOOD, HOLLY BLUE and a few RED ADMIRALS. The nectar-laden meadow held a single BRIMSTONE plus BROWN ARGUS, COMMON BLUE and MEADOW BROWNS.

Overhead we watched a pair of RAVEN along with two juvenile SPARROWHAWKS and a COMMON BUZZARD. Moving areas was productive with us locating an area of
Blackthorn and Ash trees, the haunt of the Brown Hairstreak.

We spread out and with perseverance, noted up to four BROWN HAIRSTREAK which included superb views of a stunning female as it laid its eggs on the Blackthorn!

Delighted with this, we headed back and moved off to get a well-deserved drink after a scorching morning butterflying!

After a rest we moved to a nearby nature reserve, where we enjoyed lunch with a welcome breeze to cool us down. Then we took a walk to find the first of two COMMON REDSTARTS in some scrub. Up to six CLOUDED YELLOWS were seen plus both CHALKHILL and ADONIS BLUES.

Wildflowers were in abundance with lots of AUTUMN GENTIANS and several AUTUMN LADY'S-TRESSES. Other goodies included both DWARF & CARLINE THISTLES plus ROUND-HEADED RAMPION, the county plant of Sussex.

The day concluded with a visit to Pulborough Brooks RSPB Reserve where SMALL COPPER was our 18th species of butterfly for the day!