BRECKLAND BIRDING #1
Saturday 25th March 2017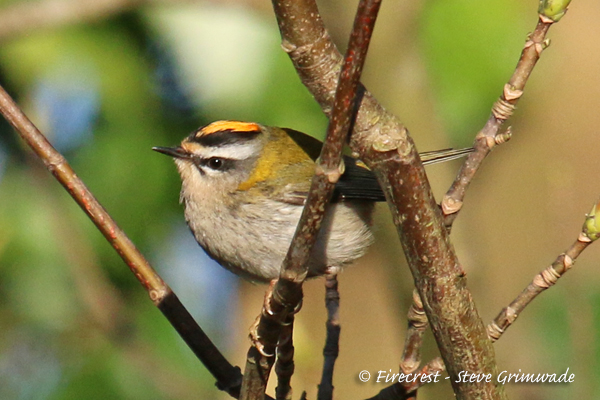 Our first of two Brecks trips this weekend started off with three COMMON BUZZARDS and a RED KITE as we headed north. Our first stop overlooking the forest brought WOODLARK and STONE CURLEW before the warm weather encouraged at least 18 COMMON BUZZARDS to rise in the thermals plus SPARROWHAWK, KESTREL and RED KITE.

Eventually we had flight views of a juvenile GOSHAWK cruising the tree line and in a nearby stubble field were several YELLOWHAMMERS glowing in the morning sunshine.

Moving on to a site nearby, we strolled down a track noting good numbers of BRIMSTONE, PEACOCK and COMMA BUTTERFLY plus a few singing CHIFFCHAFF.

Our main quarry was located by a member of the group and we were soon watching a fine GREAT GREY SHRIKE perched on top of small pine trees and giving great scope views.

With our stomachs rumbling, we drove to Lynford Arboretum where lots more BRIMSTONES fluttered by and after lunch we walked into the Arboretum. At the gates we immediately located a couple of HAWFINCH which flew up, but with patience we had good views of up to four birds feeding on the ground. BRAMBLING, SISKIN, NUTHATCH and many of the more common tits fed right in front of us.

A stroll down to the bridge produced a family party of COMMON CROSSBILLS feeding in a large pine, with the male standing out well in the sunshine. At the bridge we watched REED BUNTINGS, MARSH TIT and we had a brief sighting of WATER RAIL in a reed-filled ditch. A TREECREEPER was also seen as it made its way up a small Alder.

Walking round the lake produced LITTLE GREBES, TUFTED DUCKS, MALLARD and GADWALL then we headed back to the carpark.

With some time spare before heading home, we popped into Santon Downham and walked along the river. Four MANDARIN DUCKS were seen well plus BRAMBLING, SISKIN and WATER RAIL.

Back near our parking spot were a couple of GREY WAGTAILS on the river, plus a superb singing male FIRECREST that showed wonderfully in the evening sunshine, rounding the day off nicely!