WHERE THE PAGER TAKES US – WADER SPECIAL
Saturday 9th September 2017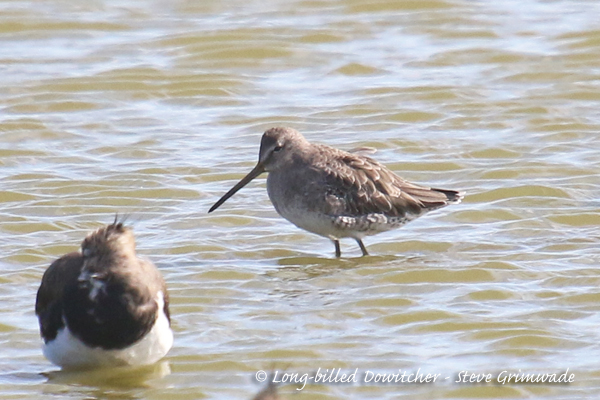 A glorious autumn day dawned as we drove eastwards towards Oare Marshes nature reserve on the edge of Faversham. The east scrape was already full of waders as we made our way along the road. The first bird we laid eyes on was the winter plumaged LONG-BILLED DOWITCHER as it fed amongst a mixed flock of NORTHERN LAPWING and RUFF.

Over the next forty minutes we had excellent scopes views of this transatlantic visitor to the UK as it fed in shallow water. The scrub behind us held two WHINCHATS whilst overhead we enjoyed good views of EURASIAN HOBBIES, COMMON BUZZARDS, EURASIAN SPARROWHAWK and COMMON KESTRELS.

Back to the scrape and it was great to find around eight CURLEW SANDPIPERS, all of which were fresh-looking juveniles and often seen with DUNLIN offering good ID comparison. LITTLE RINGED & COMMON RINGED PLOVERS fed along the muddy shores whilst large flocks of EUROPEAN GOLDEN PLOVERS and BLACK-TAILED GODWITS roosted on the scrape.

With the weather looking good, we headed off south to Dungeness where lunch was enjoyed in the sunshine, although a brisk wind was starting to blow from the west. A look at Burrowes pit produced two RED KNOT, LITTLE RINGED PLOVER, COMMON SANDPIPER and a very brief juvenile LITTLE STINT that soon flew off. Roosting on the sheltered west side were three GREAT EGRETS and on the open water a single female/juvenile COMMON GOLDENEYE.

COMMON CHIFFCHAFFS called unseen from the bushes as we strolled around the circuit and on reaching Dengemarsh Hide we soon located one of the recently present WESTERN CATTLE EGRETS as it fed alongside a herd of cows. Another WESTERN CATTLE EGRET flew over and a GREAT EGRET flew in and began feeding close to the hide.

With time to spare we left the reserve and checked out the ARC pit where two juvenile LITTLE STINTS showed well but distant and two GARGANEY were found close to the hide. Other goodies included EURASIAN HOBBY, WESTERN MARSH HARRIER and a moulting adult BLACK-NECKED GREBE.

The last part of the day was enjoyed down on the beach where some of the group attempted a seawatch but apart from large numbers of SANDWICH TERNS and NORTHERN GANNETS it was rather quiet. Steve picked up a distant ARCTIC SKUA but this promptly disappeared into the large wave troughs.

The other group with Annette were very successful as they wandered across the shingle to join a small group of birders watching some bushes and there was a superb EURASIAN WRYNECK that showed well in the scope.

Once again, another good day of birding with some excellent species seen throughout the day!