Ref:
Date:
Location:
Photographer:
Ref:
Date:
Location:
Photographer: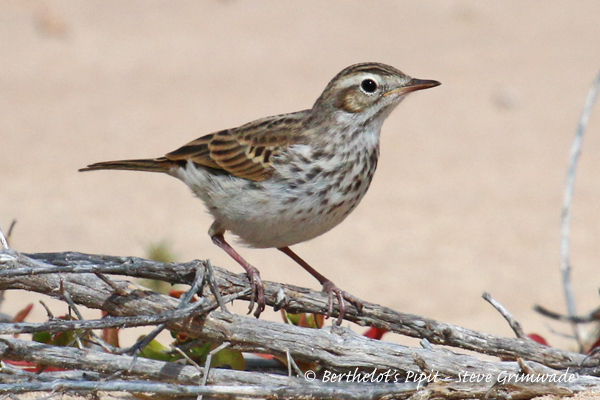 Friday 1st – Monday 4th November 2019
TENERIFE – A QUEST FOR ISLAND ENDEMICS
The volcanic island of Tenerife is the largest in the Canary Island chain and home to some endemic species and sub-species such as Tenerife Blue Chaffinch, Atlantic Canary, Canary Islands Chiffchaff plus Laurel and Bolle's Pigeons.

Our long weekend will be spent exploring this exciting island where birding and scenery will be second to none!
Tour Leader: Steve Grimwade
Maximum Group Size: 8
Day 1
We take a morning flight from London Gatwick to Tenerife and transfer northwards to our comfortable accommodation and our base for the next three nights. The area around our hotel often has Plain Swifts overhead and Southern Grey Shrikes of the race koenigi perching on the prickly pear bushes.
Overnight: Guimar
Days 2 - 3
With the volcanic Mount Teide in view, we will explore the areas above 800 metres where Tenerife Blue Chaffinches can be found foraging amongst the pine trees and we hope to get good views. The Tenerife sub-species of Goldcrest, Great Spotted Woodpecker, Common Chaffinch and European Robin are potential splits and we should get our first chance to see the lovely Atlantic Canary's on scrub-covered hillsides.
From selected vantage view-points overlooking the vast Laurel forests, we will seek out the often difficult and elusive Laurel and Bolle's Pigeons but with patience and a little luck we should have good views!
With its distinctive song, the Canary Islands Chiffchaff occurs in most habitats and other species we hope to see during our tour include Berthelot's Pipit, Barbary Falcon, African Blue Tit, Barbary Partridge, Northern Raven of the sub-species
tingitanus
and Common Buzzards of the race
insularum
.
Overnight: Guimar
Day 4
Depending on our flight time, we will revisit sites for any missed species after what is sure to have been a great tour!
Tour Includes
Flights from London Gatwick to Tenerife
Full board accommodation for 3 nights
All ground transport on Tenerife
Full guiding throughout
Not Included
Travel Insurance
Drinks and items of a personal nature
Lunch on day 1
Pace
Relaxed, two to three miles walking per day
Birds
Expect around 55-70 species
Ground Price: £710

*Air Price: £170

Total Tour Price: £880

Single Supplement: £90

Deposit: £250
*Please see our tours page regarding flight costs